TOGETHER WE KEEP MIDTOWN SAFE
WHEN IS NATIONAL NIGHT OUT?
August 3, 2021 @ 5:00 pm – 7:00 pm
Myrtle Street between 5th & 6th Street NE
WHAT IS NATIONAL NIGHT OUT?
National Night Out, which is sponsored by the National Association of Town Watch (NATW) and co-sponsored locally by Midtown Neighbors' Association, involves over 16,500 communities from all 50 states, U.S. territories, Canadian cities and military bases around the world. In all, over 38.5 million people will participate in 'America's Night Out Against Crime'.
MNA National Night Out is designed to:
heighten crime and drug prevention awareness;
generate support for, and participation in, local anti-crime efforts like the MNA Safety Patrol Program;
strengthen neighborhood spirit and civil servant-community partnerships;
provide educational materials on home and personal safety measures; and
send a message to criminals letting them know Midtown is organized, aware, and taking steps to keep our neighborhood safe.
BACK TO MIDTOWN'S BLOCK PARTY
COVID-19 changed the plan last year.  We are happy to be returning to an evening outside with neighbors, police, fire fighters, community outreach volunteers, and your civic leaders.  This year, we will be spreading out a bit more, sharing responsible food and drink options, and asking all who are not vaccinated to wear a mask.  Our first responders give each and every day to our community to keep us out of harm's way and to be there to assist in those emergency moments when we do need them.  This last year and a half has been an example of their incredible dedication to others.  During National Night Out, we connect you directly to these brave and dedicated individuals in our community.  You can ask questions, explore a truck, share a request for change.  We can also give thanks to them for showing up each and every day for us.
2021 ORGANIZATIONS, GUESTS AND PLAYFUL ACTIVITIES
This year, our National Night Out event includes many of things you love about our annual block party and some new ones!  Check out our participants for 2021 and make plans to stop join us.
APD Zone 5 and Zone 6 Teams
Majors Spann and Ries will arrive with their teams to mingle with our neighborhood, discuss how we – the community – can help deter crime, and what their departments do every single day to address criminals and protect residents in our community.  Given recent events, they are anticipating your unease about moving around the neighborhood and will be prepared to answer questions about the violent crime trends we are seeing.
Atlanta Fire and Rescue
Midtown's Engine 15 located on 10th Street always arrives with a giant red truck for kids to climb on and some of our local AFD heroes ready to chat about CO2 and smoke monitors, how to safely exit a house fire, closing your doors at night and car seats.  Who knows…you might be inspired to join their ranks!
APD Mounted Patrol
Kids and adults can enjoy meeting some of APD's finest.  Did you know that each horse is a sworn officer of the APD?  Where do they wear their badge?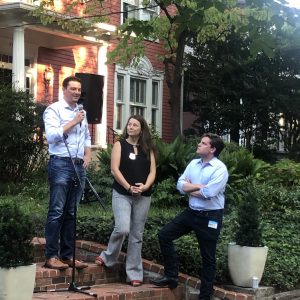 Midtown City Council Members
We are fortunate to have engaged and accessible City Council Members in Midtown.  Council Members Farokhi (D2), Ide (D6), and Westmoreland (Post 2) will all be with us, answering your questions and sharing some insight into what City Council can do to keep Atlanta safe.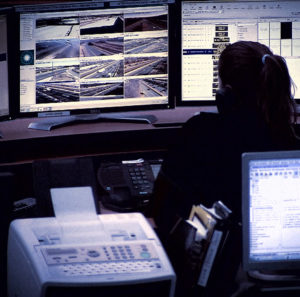 911 Call Center
Have been on hold with 911?  Did you call and wonder why the response was slow?  Have read about understaffing?  Join our event to chat with the Director of Atlanta's new E911 Call Center and learn about recent salary increases, how supervisors monitor calls and manage hold times, and how you can text 911!
Community Outreach Programs
We are excited to have Policing Alternatives and Diversion (PAD), Our House, Red Cross, ATL311 and more with us this year to share their outreach work in the community.  They will share actions you can take as a volunteer to solve blood supply shortages, help those with mental health, provide resources for homeless families, and report non-violent offenses to ATL311.
LEAVE YOUR PORCH LIGHTS ON
To show your support of our first responders, please turn on your porch lights or illuminate your condo windows beginning at 5:00 PM – 10:00 PM on Tuesday August 3rd.
MNA'S EFFORTS TO KEEP MIDTOWN SAFE
MNA has been working to keep Midtown safe for 53 years.  We first brought National Night Out to Midtown in 2003 and we have hosted it annually every year following.  We understand how complex crime prevention can be and how that can translate into frustration as a resident.  We help decipher the layered elements to the public safety continuum and we create a clear path to answers for our fellow Midtown residents.
Learn more about MNA's Court Watch program, Safety Patrol and collaboration with APD and Midtown Blue.
Our Safety Team works closely with an invaluable resource – APD Sergeant Matt Stenson.  Sgt Stenson oversees our Garden District safety patrol and is a reliable guide for how to approach safety strategies throughout Midtown.  As a former Zone 5 officer, he is intimately aware of the daily changes in our neighborhood and keeps our MNA Safety Team updated so we can proactively work to address resident concerns.  Sgt Stenson approaches his profession with an in-depth knowledge of code and a great balance of logic, compassion and strength.  He's first to offer to contact a resident in need including carrying frozen water bottles in the back of our patrol truck for our unsheltered residents in the summer.  We are proud to work with Officer Stenson and thank him for his partnership in Midtown.
Get to know Officer Stenson in this online Q&A and wave hi when you see the patrol truck coming your way!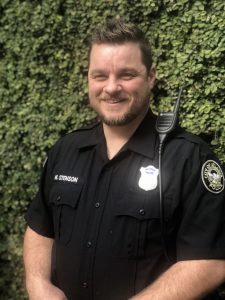 PARTNERS IN PUBLIC SAFETY
We work with our partners throughout the year to create a safe community.  Click below to learn more about these organizations.
It takes a village of people to create a strong community.  We thank our current and past sponsors who have helped to make our National Night Out possible.