The Midtown Book Group meets at Savi Provisions Midtown at 988 Peachtree St NE, Atlanta, GA 3030:   Upstairs in the loft (formerly the Margaret Mitchell House Literary Events Annex).
Meetings are the 2nd Wednesday of each month @ 8 pm to discuss and enjoy great literature. We have a terrific, mixed group of Midtown neighbors & book lovers who participate for always-lively conversation: young and old(er), male and female, professionals, students, work-at-home moms, house people and condo dwellers, all are welcome!
Please sign up at http://groups.yahoo.com/group/MNAbookclub for updates and information.
You can also follow us on Facebook  Midtown Book Group on Facebook
January 10, 2018 
Train Dreams by Denis Johnson
Location: Savi Provisions Midtown
"National Book Award winner Johnson (Tree of Smoke) has skillfully packed an epistle into novella length in this account of the life of Idaho Panhandle railroad laborer Robert Grainer  . . . The Gothic sensibility of the wilderness and isolated settings and Native American folktales peppered liberally with natural and human-made violence, add darkness to a work that lingers viscerally with readers . . .  Highly recommended"  – Library Journal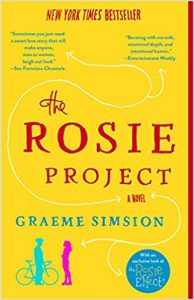 February 14, 2018 
The Rosie Project by  Graeme Simsion
Location: Savi Provisions Midtown
The Rosie Project by Graeme Simsion
"The Rosie Project is an upbeat, quirky, impertinent gem of a read. As the novel makes its logically irrefutable progression, readers will become enchanted by what may well be the world's first rigorously evidence-based romantic comedy" – Chris Cleave,
March 14, 2018 
The Underground Railroad by C. Whitehead
Location: Savi Provisions Midtown
"Far and away the most anticipated literary novel of the year, The Underground Railroad marks the new triumph for Whitehead . . . The Underground Railroad reanimates the slave narrative, disrupts our settled sense of the past and stretches the ligaments of history right into our own era. . .  The cannon of essential novels about America's peculiar institution just grew by one." – Ron Charles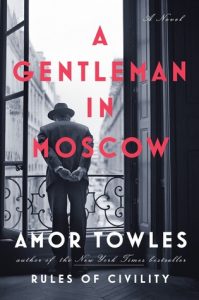 April 11, 2018
A Gentleman in Moscow by Amor Towles
Location: Savi Provisions Midtown
"In all ways a great novel, a nonstop pleasure brimming with charm, personal wisdom and philosophic insight . . . This is a book in which the cruelties of the age can't begin to erase the glories of real human connection and the memories it leaves behind. A masterly encapsulation of modern Russian history" Kirkus Reviews
Books featured by the Midtown Book Group in the Past
Dec. 13, 2017 –Tulum by David Seth Michaels
Nov. 8, 2017 – My Brilliant Friend by Elena Ferrante
Oct 11, 2017 – The Handmaid's Tale by  Margaret Atwood
September 13, 2017 – The Sleeping World by Gabrielle Lucille Fuetes
August 9, 2017 – Born a Crime by Trevor Noah
Born a Crime by Trevor Noah