EDUCATION, PRESERVATION, CELEBRATION
LANDMARKING THE SPILLER PARK MAGNOLIAS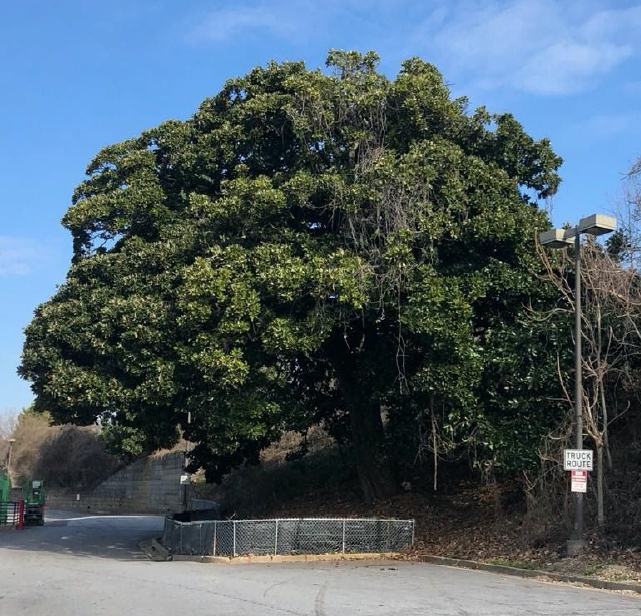 In June 2020, Midtown Neighbors' Association submitted an application to the City of Atlanta's Tree Conservation Commission to register the approximately 125 year old Spiller Park Magnolias as historic and landmarked trees.
Wondering the significance of these trees?  Earlier this year, MNA's History Chairman, Adam C. Johnson, published an article chronicling the unique story of the Spiller Park Magnolias and their rare baseball legacy as the only trees to have been in active play.  The Spiller Park Magnolias sat directly in the centerfield of Old Poncey and received home run hits by both Eddie Matthews and Babe Ruth.   
Please help us secure the designation for these special trees by submitting your support to the city.  You may write your own language or use our sample below. Please submit your support by 7/24/20.
Please share this page with others to grow the support.
Dear Chairman Morton:
I'm writing you to support the designation of the Spiller Magnolia Trees as Historic and Landmark.
As a [resident of the Midtown Neighborhood / baseball enthusiast / Atlanta historian], I recognize both the history and significance of these trees and ask that the City of Atlanta and your committee take necessary actions to preserve them and share their history.
For these reasons, I support the Midtown Neighbors' Association's nomination and urge the Tree Conservation Committee to approve this designation. Thank you for your attention and consideration.
Sincerely,
XXXXXXX
Kathryn A. Evans
Administrative Analyst, Sr.
Tree Conservation Commission
Department of City Planning 
Arborist Division
Suite 3800, 55 Trinity Ave, S.W.
Atlanta, GA  30303
Tel: 404.330.6235 
EXPLORING AN HISTORIC OVERLAY
In the summer of 2014, MNA began to explore the possibility of creating a local historic overlay zoning district for Midtown roughly along the boundaries of the Midtown National Historic Register District, or the Garden District, which was created in 1999.  Two public meetings were held in December 2014 and March 2015 to educate the residents about what it means to be a local historic district and the potential impact of the historic overlay zoning regulations on Midtown.
The effort of exploring the creation of a local historic overlay district revealed a more urgent need for a Midtown Garden District Master Plan.  This master plan project kicked off in February 2016 and was adopted in November 2016.