The Midtown Book Group meets at Barnes & Noble @ Tech Square (5th & Spring) the 2nd Wednesday of each month @ 8 pm to discuss and enjoy great literature. We have a terrific, mixed group of Midtown neighbors & book lovers who participate for always-lively conversation: young and old(er), male and female, professionals, students, work-at-home moms, house people and condo dwellers, all are welcome! We meet in the upstairs conversation area in the back corner of the Computer/Music section at Barnes & Noble. Midtown Book Group members receive a 20% discount on the Monthly Book Selection at B&N @ GeorgiaTech.
Please sign up at http://groups.yahoo.com/group/MNAbookclub for updates and information.
You can also follow us on Facebook  Midtown Book Group on Facebook
Jan 11, 2017 
NIGHT, DAWN & DAY (Trilogy) by Elie Wiesel
Night is one of the masterpieces of Holocaust literature. First published in 1958, it is the autobiographical account of an adolescent boy and his father in Auschwitz. Elie Wiesel writes of their battle for survival and of his battle with God for a way to understand the wanton cruelty he witnesses each day. In the short novel Dawn (1960), a young man who has survived World War II and settled in Palestine joins a Jewish underground movement and is commanded to execute a British officer who has been taken hostage. In Day (previously titled The Accident, 1961), Wiesel questions the limits of conscience: Can Holocaust survivors forge a new life despite their memories? Wiesel's trilogy offers insights on mankind's attraction to violence and on the temptation of self-destruction.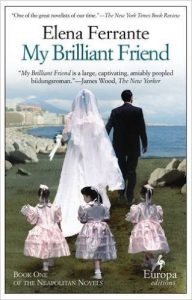 Feb 8, 2017 
"My Brilliant Friend" by Elena Ferrante (CP)
A modern masterpiece from one of Italy's most acclaimed authors, My Brilliant Friend is a rich, intense, and generous-hearted story about two friends, Elena and Lila. Ferrante's inimitable style lends itself perfectly to a meticulous portrait of these two women that is also the story of a nation and a touching meditation on the nature of friendship.
The story begins in the 1950s, in a poor but vibrant neighborhood on the outskirts of Naples. Growing up on these tough streets the two girls learn to rely on each other ahead of anyone or anything else. As they grow, as their paths repeatedly diverge and converge, Elena and Lila remain best friends whose respective destinies are reflected and refracted in the other. They are likewise the embodiments of a nation undergoing momentous change. Through the lives of these two women, Ferrante tells the story of a neighborhood, a city, and a country as it is transformed in ways that, in turn, also transform the relationship between her protagonists, the unforgettable Elena and Lila.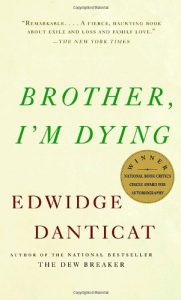 Mar 8, 2017 
"Brother, I'm Dying" by Edwidge Danticat *NEA Big Read*
Edwidge Danticat's Brother, I'm Dying tells the true story of the author's uncle and father as they work to build a future for themselves and their families—one brother in Haiti and the other in America. When the book opens, the author is a grown woman living in Miami, and she learns, over the course of a single day, that her father is dying and that she is pregnant with her first child. Just weeks later, her beloved Uncle Joseph seeks asylum in the United States and experiences brutal treatment. Told through Danticat's singular voice, these events set the stage for a powerful tale of loss and remembrance.