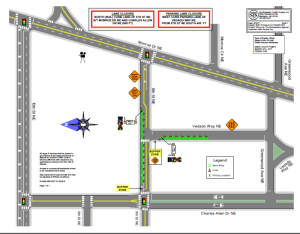 Filming Notice- Simon vs. the Homo Sapiens Agenda
Wednesday March 15- Thursday March 16, 2017
Location: Grady High School
Lane closures: Vedado Way, 8th St. and Monroe Drive
Production Company Contact: Craig Rogers, cmrogers101@yahoo.com, 910-352-1176
Expect loud noises from production including marching band.
Letter to neighborhood from production company is included below:
Dear Neighbors:
Simon vs the Homo Sapiens Agenda
20th Century Fox
1757 Mary Dell Drive SE Atlanta GA 303016
404.458-1553
20th Century Fox would like to film scenes for new feature film Simon vs the Homo Sapiens Agenda at Grady High School Football Stadium on Monroe Avenue on Wednesday, March 15, and Thursday, March 16.
The movie, based on the successful book by Becky Albertalli, stars Nick Robinson (Jurassic World/ Kings of Summer), Alexandra Shipp (Nickelodeon's House of Anubis) and Logan Miller (Scouts Guide to the Zombie Apocalypse) and will be filming in and around Atlanta until the end of April.
The scenes to be filmed at Grady Stadium take place at night, and involves a crowd at the stadium prior to a football game. A marching band will perform, and a student will profess his love to his girlfriend over the loud- speakers.
We are structuring our schedule to shoot these louder scenes early in the night, but have requested a variance from the city of Atlanta noise ordinance, which typically begins at 9pm on weekdays. We respectfully request your support for an extension until 11pm on both nights.  
If we were unable to meet you in person, we will return several times over the next few days so that you may voice your opinion and present any concerns you may have.
Please be aware that filming will continue inside the stadium until 7am on both mornings, and the stadium lights will remain on inside the stadium throughout the course of the night.
We also have requested permission to conduct intermittent traffic control on Monroe Avenue between 8th and 10th Streets. These temporary closures lasting 2-3 minutes will only occur during filming and will not start until after 8pm.
Residents within the affected area will still be able to access their houses, and customers your businesses, alt- hough at times with minor delays; we apologize for any difficulties you may experience.
City of Atlanta Police will be on site to assist with these temporary closures.
Our Base Camp, Crew Cars and Extras Cars will park in private lots outside your neighborhood.
A representative from the locations department will be on-set at all times to assist with any needs or issues that may arise.
We realize that we are guests in your neighborhood and are striving to complete our work in an efficient and timely manner, and we thank you and your neighborhood in advance for their patience and understanding.
Sincerely,
| | | |
| --- | --- | --- |
| Julia Donovan | Key Assistant Location Manager | 310-415-8227 |
| Patrick Rofoli | Key Assistant Location Manager | 323-383-2060 |
| Kenny Porter | Assistant Location Manager | 910-264-6395 |
| Brandon Gorrell | Location Assistant | 407-716-3535 |