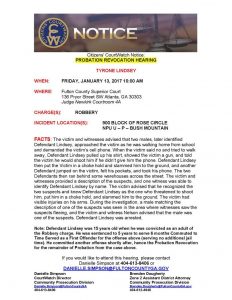 This hearing will determine whether Defendant Tyrone Lindsey will go to prison for violating his Robbery probation after committing an additional offense.
Location
Fulton County Superior Court
136 Pryor ST SW Atlanta GA 30303
Judge NewKirk Courtroom 4A
Charges Robbery
Incident Locations
900 Block of Rose Circle NPU-P Bush Mountain
Defendant Attached a victim to steal phone then physically assaulted the victim. Perp had a gun and was identified by witnesses.
If you want to attend the hearing contact
Danielle Simpson at 404 613 8406 or at danielle.simpson@fultoncountyga.gov
You may also send a Community Impact Statement
Please see our Courtwatch page (on the Safety page)  to download a sample statement