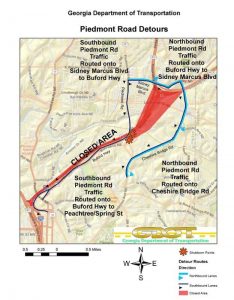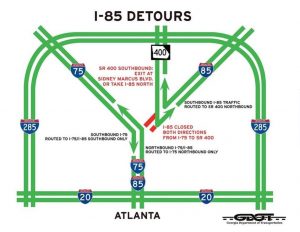 Commuters typically using I-85 should consider additional time when traveling to Buckhead, Midtown and Downtown.
Piedmont Road, Cheshire Bridge Road, Lenox Road and Lindbergh Drive are all expected to have very heavy delays.
Many surface streets in the city will experience long delays as motorists avoiding I-85 seek alternates.
The following alternative routes are being recommended.
Northbound
Northbound traffic leaving downtown Atlanta is being diverted to Interstate 75.
Anyone headed to south Buckhead should get off at Northside Drive or Howell Mill Road and go north to Collier Road or Peachtree Battle Road before heading eastward toward Peachtree Road.
Central Buckhead traffic should get off at Paces Ferry Road before going eastward.
Other traffic should go to I-285 before going eastward.
Traffic going to the east of Piedmont Road should go to Clairmont Road or I-285 on the east before going northward.
Southbound
Southbound traffic leaving Buckhead headed toward downtown Atlanta should head westbound on Paces Ferry Road, Wesley Road, Peachtree Battle Road or Collier Road.
Southbound routes include Interstate 75, Northside Drive and Howell Mill Road inside the Perimeter.
Buford Highway
Buford Highway will likely be completely gridlocked in both directions.
I-85 normally has six lanes of traffic in each direction, while Buford Highway only carries two lanes each way.
Please note the Buford Highway connector is now shut down
Piedmont Road
At this time the section of Piedmont Ave. that runs under I-85 is closed in both directions. GDOT currently has engineers inspecting the bridge to determine its structural integrity and when it will be safe to reopen any travel lanes.