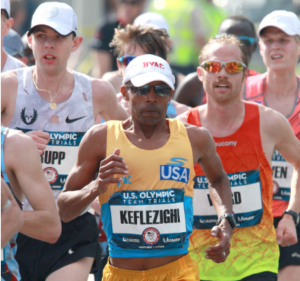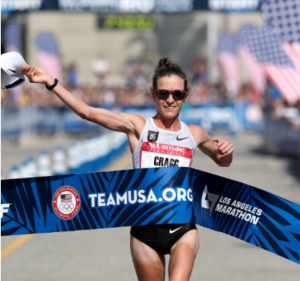 This Saturday, February 29th, Atlanta will host the U.S. Olympic Team Trials – Marathon.  Midtown residents should be prepared for extensive road closures for the duration of Saturday.  Plan to enjoy this historic moment and watch the athletes compete.  This route has the unique opportunity to see each runner pass six times!  Read below for more details on where to watch and how to get around if you need to drive out of Midtown on Saturday.
THE COURSE
Highlighting Atlanta's Olympic history and legacy, the course for the U.S. Olympic Team Trials – Marathon will take athletes on a tour of some of Atlanta's most important attractions and neighborhoods. Competitors will begin their race in front of Centennial Olympic Park – the crown jewel of the 1996 Atlanta Games – and head down Marietta Street toward Peachtree. They will proceed three miles north on Peachtree until they pass the intersection of Peachtree and West Peachtree, then turn around and head back down Peachtree in the opposite direction, loop through Atlanta's Old Fourth Ward neighborhood and return to downtown. The runners will complete this loop three times before heading on a 2.2 mile final loop that runs under the Rings and Torch structure from the 1996 Atlanta Olympics, goes by the Georgia Capitol building and passes by the sports stadiums that house the Atlanta Falcons, Atlanta Hawks and Atlanta United FC. They will then reach the welcome sight of the finish line inside Centennial Olympic Park. View the elevation chart here. 
WHO
Meet the athletes that you can watch as they compete to be a part of the 2020 US Olympic Team.
SPECTATING
The course for the 2020 U.S. Olympic Team Trials – Marathon was designed for maximum crowd support. Fans can cheer on the Olympic hopefuls as many as six times from the same spot on several sections of the course, including all along the three-mile stretch of Peachtree Street. Several bars and restaurants along the route plan to offer drink and food specials, and most prime viewing spots are a walk or easy jog back to the finish area at Centennial Olympic Park.
Find locations to get a great view of the runner with this map provided by Atlanta Track Club.
ROAD CLOSURES
From 7 AM – 4 PM, Midtown and Downtown Atlanta will see extensive road closures.  Please refer to the road closure map too ensure you understand your access.
In addition:
No street parking permitted on the course route beginning at 8:00 a.m. on February 29. (No Parking signs/cones will be placed in these locations as a notification 48 hours (Thursday, February 27) prior to race day. Any vehicles on the course after 8:00 a.m. on February 29 will be towed.
Atlanta Streetcar will not be in service from 10:00 a.m. to 4:00 p.m.