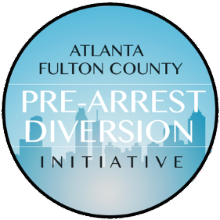 A new approach to community safety & wellness
Thank you for your support of Atlanta and Fulton County's pre-arrest diversion initiative, scheduled to launch in July 2017. Together we are creating new ways to improve safety, quality of life and wellness by diverting and serving people affected by substance addiction, mental illness, and extreme poverty.
See below for important PAD updates, and our new Facebook and Twitter links!
PAD Pilot Area Selected
The Pre-Arrest Diversion Initiative will be piloted in parts of Downtown, Midtown, and Old Fourth Ward beginning in 2017. This pilot area, which includes beats in Zones 5 and 6, was selected based on the number and frequency of APD arrests related to quality of life issues, drugs/alcohol, and other related infractions.
Law Enforcement Lunch & Learn a Success
Over 50 law enforcement personnel attended the Law Enforcement Learning Exchange to hear from experts implementing pre-arrest or pre-booking diversion programs. Atlanta Police Chief Erika Shields welcomed expert panelists from jurisdictions in North Carolina, New Mexico, New York and Seattle. According to Chief Shields:
"Pre-Arrest Diversion provides the tools our officers are asking for to help communities address the challenges of drug addiction, mental illness and poverty. We know we cannot arrest our way out of the problem, and we know that our officers cannot do it alone. But with PAD we can be a vital part of helping people put their lives back together."
To learn more about the principles of successful diversion programs, visit www.leadbureau.org.
Design Team Holds Final Meeting March 8th
The PAD Design Team includes representatives from the city and county, social service and advocacy organizations, law enforcement, impacted community members, judges, prosecutors, and public defenders. This dynamic team spent the last nine months designing the pilot, including selecting the pilot location, the eligibility requirements for diversion participants, and basic protocol for law enforcement and care navigation.
The final Design Team meeting will focus on the final pilot protocol and next steps for implementation, as well as celebrate our work together to date. To attend, contact Design Team Co-Coordinator LeRoy Evans at lee@prearrestdiversion.org.
PAD Seeks Social Service Partner
A Request for Proposals has been released for the PAD Primary Service Partner. This partner agency will be responsible for providing care navigation (also known as case management) services for PAD participants in a way that is trans-competent, culturally-competent, and trauma-informed.
PAD Acting Director Hired
The Pre-Arrest Diversion Initiative has hired Moki Macías as the Acting Director. To learn more about PAD or how you can get involved, contact her at moki@prearrestdiversion.org.
UPCOMING EVENTS
March 8, 2017 at 10am-1pm: Final PAD Design Team Meeting (open to the public). Contact Mr. Evans at lee@prearrestdiversion.org for more information.
Do you live in Downtown, Midtown, or Old Fourth Ward? Does your neighborhood organization, advocacy group, or business association want to learn more about PAD? Connect with us to schedule a PAD 101 presentation or meeting with your group. Contact Moki at moki@prearrestdiversion.org.