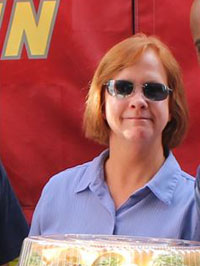 Nancy F. Reynolds has practiced labor and employment law for over twenty years, currently as a solo practitioner and compliance consultant, and formerly with the firm of Elarbee Thompson. In January of 1994, Nancy became Elarbee Thompson's first female partner. She has represented employers nationwide in labor relations, affirmative action compliance and employment-related litigation. Nancy emphasizes a pro-active approach to employment issues, assisting clients in the development and implementation of policies, providing training on policies and current employment laws, and counseling employers in situations of employee discipline, termination, and complaints of discrimination or other unlawful treatment.
Nancy received her B.A., graduating magna cum laude with honors in English from the University of the South in 1980, and received her J.D. from Vanderbilt University in 1986. She is a member of the Atlanta and American Bar Associations, and the State Bar of Georgia. She is admitted to practice in the United States District Courts for the Northern and Middle District of Georgia; the U.S. Courts of Appeal for the Fourth, Fifth, Sixth, Seventh, Eleventh and D.C. Circuits; and the United States Supreme Court. Nancy has been named a Georgia Super Lawyer in 2004, 2005, 2006 2007, 2008 and 2009. She is Past President of the Rotary Club of Brookhaven, recipient of Rotary Presidential and Governor's Citations, and recipient of the Mulkey "Show Rotary Cares" Award. As a native Atlantan, over 20 year resident of Midtown, and active member of her community, Nancy is committed to working toward protecting and expanding Atlanta's rich quality of life.
Nancy is a member of the Fulton County Arts Council, the Midtown Parents' Group, the Midtown Ponce Security Alliance. Since August 2006, she has served as Secretary and member of the Executive Committee of the MNA Board.