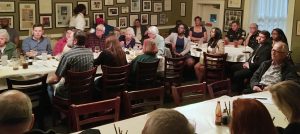 MPSA held its first quarterly meeting of 2017 on Wednesday, March 8th at Mary Mac's Tea Room. Atlanta's Chief of Police, Erika Shields, spoke to members about several APD initiatives, including: creative ways to recruit new officers, retention of current officers, strong ethics department-wide, proactively addressing juvenile crime with educational programs and new technology to aid in the identification and capture of criminals. Chief Shields noted that repeat offenders are still a major concern, and she provided details on a new Pre-Arrest Diversion program that will help identify the root causes of repeat offenders and provide resources to help them live a life without crime.
Fulton County's Senior District Attorney, Adriane Love, spoke about the growing gang problem in Atlanta. There are approximately 135 active gangs in our city, and gang members are getting younger and younger. Ms. Love encouraged the community to participate in CourtWatch activities so that judges hear our concerns about how criminal activity affects our neighborhood. For more information on CourtWatch, please visit their website. Note : the annual CourtWatch meeting is April 1st and is the perfect time for you to learn more about ways you can help. Fulton County DA, Paul Howard, will speak, as will several Superior Court judges and top law enforcement officials. This is a free program!
Major Kreher, Zone 5 Commander, answered questions from the group and provided more information about the Pre-Arrest Diversion program. Officer Eric King, LGBTQ liaison for APD, also talked with the group about street prostitution and the creative ways APD is addressing this issue. Several neighbors commended Officer King and Major Kreher for their hard work and success in reducing crime in Midtown.
The next MPSA quarterly meeting is June 7. Please join us!