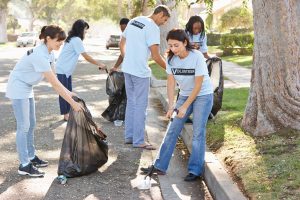 Get your VIBE on!
V isualize Possibilities
I mprove Streetscapes
B uild Engagement
E levate Standards
Midtown VIBE's goal is to make our community a better place to live. We are inclusive, proactive, and diligent as we work side-by-side in our commitment to serve the best interest of Midtown. Our teams of dedicated volunteers promote 'block pride' encouraging street clean up, sidewalk green space beautification and planting, trash pick up, proper use and storage of herbie curbies and clean up of vacant lots.
To find out more about VIBE and how you can volunteer, become a block captain or propose a project please email your VIBE Chairperson at VIBE@midtownatlanta.org
SATURDAY OCT. 14, 2017
The MNA Kicked-off its newest committee Midtown VIBE. Four teams of volunteers set out on four distinct routes in the Midtown Garden District to pick trash. The volunteers picked up 21 garbage bags of refuse from the streets and sidewalks.
Lets remember to keep our neighborhood beautiful! Always pick up the trash in front of your home, sweep the streets of leaves and maintain your yard. Get your VIBE on Midtown.